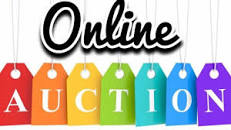 To purchase an auction ticket:
Go here.
>Scroll down and select the quantity of the ticket option you wish to purchase
>Click "Register" near the bottom of the screen
>After verifying your information is correct, click "Register Now"
>After verifying the Checkout information is correct, click "Continue"
>Click "Submit Payment" after reviewing the information for your purchase
>After you have purchased a ticket, you should have access to the auction site by going here.
There are two options when you purchase a ticket to create a user profile:
$5 donation
$10 donation with $5 being your ticket donation and $5 going into a raffle
 
*If you donated items to be auctioned, your ticket will be FREE! Follow the beginning steps to purchase a $5 ticket. The "Discount Code" for your free ticket can be obtained from any Mother-to-Mother staff member.
Thank you for supporting the Mother-to-Mother online auction! This year's auction will begin at 3:00 p.m. Thursday, October 13 and end at 9:00 p.m. Wednesday, October 19. Just like last year, every bidder must purchase a ticket to create a user profile before they can place a bid. Completing the user profile needs to be done prior to the beginning of the auction. Once bidders complete a user profile, they will be set up in the system so they can access the auction site and bid when the auction begins Thursday, October 13. Bidders may securely pay for items purchased directly from the auction website using Visa, Mastercard, Discover, or American Express.